Jinduicheng Molybdenum Group Co., Ltd. (short for JDC-Group) was established in 1958 and is a subsidiary wholly-owned by Shaanxi Non-ferrous Metals Holding Group Co., Ltd. By the end of August 2014, its total assets have exceeded RMB 29 billion Yuan. It also has a number of subsidiaries by means of wholly owned, share-holding or taking a stake. It has more than 9,000 registered employees with production bases and business mainly in Canada, Hongkong, Ruyang county of Henan Province, Zibo city of Shandong Province, and Xi'an city, Weinan city and Hua county of Shaanxi Province.
Jinduicheng Molybdenum Co., Ltd.(short for JDC-Moly) is a subsidiary of JDC-Group by means of share holding. JDC-Moly is a professional Molybdenum producer and trader gathering molybdenum mining, dressing, metallurgical processing, and scientific research as well as trading integrated. In April 17th, 2008, JDC-Moly announced its public offering in Shanghai Stock Exchange and completed its A-share listed. JDC-Moly is mainly engaged in producing molybdenum products divided into three series as molybdenum metallurgical, chemical and metal products totally with more than twenty kinds. Besides a big domestic market share, its molybdenum products are also sold to countries and regions like Europe, America, Africa, Australia, Japan, South Korea, India and etc. Meanwhile, JDC-Moly also produces some by-products like sulfur, iron, copper and etc.
JDC-Group not only endeavors to become excellent and leading in molybdenum industry, but also focuses its development extended on other mineral industries. In 2008, JDC-Group successfully completed its acquisition of Yukon Zinc Corporation in Canada and made the Wolverine Zinc and Silver Mine of 1,700 tons per day into production; also in 2008, on Nov. 26th, JDC-Group launched its construction of Low-E Glass Project in Luoyang City of China's Henan Province. Up to now, the Project has entered routine operation with qualified products. Meanwhile, JDC-Group is also positive to participate in other industrial regions like chemicals, electricity power and real estate operation and etc. all for its speed-up steps on international and diversified development.
During China's Twelfth Five Year Plan, JDC-Group will insist on the development principle of making technical upgrade and structural adjustment combined, making business operation and capital operation combined, making resources advantages and circular economy combined. It will take resources integration as guide motivated by capital operation, relying on technological innovation and industrial advantages consolidation, strive to optimize industrial structure and ways of development, thus to make comprehensive improvements of economic benefits and social benefits, finally making JDC-Group an international competitive and comprehensive mining group.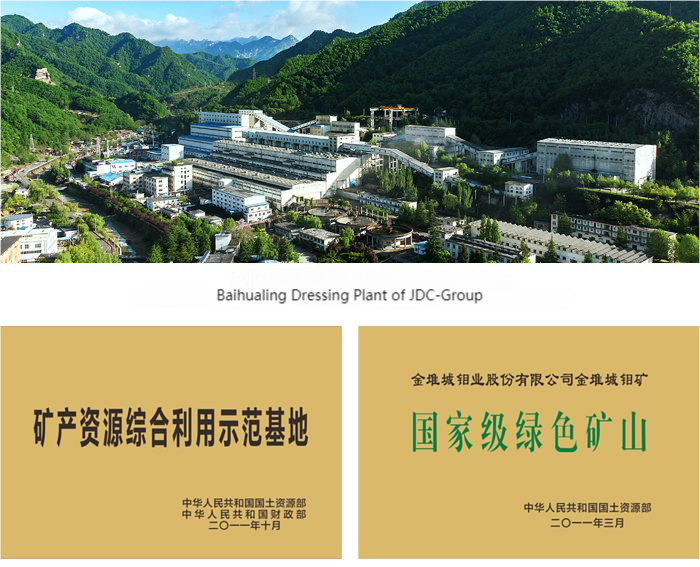 Jinduicheng Molybdenum Group Co., Ltd.
Address: No. 67 Dongfeng Street, High tech industrial development zone, Weinan City
Postal code:714000
Telephone: 0913-2939201
Fax:0913-2939100
E-mail:jlb@jdcmmc.com