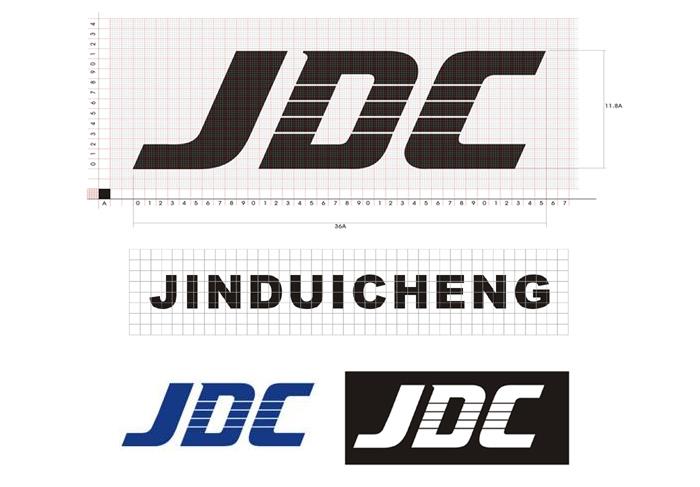 The flag of Jinduicheng Molybdenum Co., Ltd. comes from the abbreviation of company's English name-JDC, which reflected both national character and international integration.
The basic color of the flag(BLUE), refers to sea and sky., representing a broad, deep, vise and timeless sight.
The logo is properly deformed from based bold letters in English; give people an impression of reliability and trust.
English sense of the flag: the "J" refers to Jewel (gem of Italy), which represents the precious of company's products; the "D" refer to Dynamism (vitality, dynamism of Italy), which combined "innovation, excellence" and philosophy of "people oriented" together; "C" refer to Credit (trust,), and that the spirit of "good faith" and "win-win" concept.
The overall modeling of the logo is a 21-degree angle, like a train with high speed, and symbol of the rapid development of enterprise and never-ending pursue. The entire logo is simple, crisp and gives people a strong visual impact with a sense of speed and balance.
The overall graphics of "JDC" is similar to number "100", indicating our pursuit on quality. The letters "DC" contrast four shading dotted line, and cut out 9 similar small units symbolize the huge influence of corporate brand and accommodate many excellence deep mind, as well as represents the diversification of the company. "DC" is partially taken both with dotted and real performance. Solid shape expresses the foundation of the company, and the virtual image symbolizes company's open mind and continuous vitality. The mix of curves and straight lines together bring a beauty, fresh and dignified sight to people, and also refers to the pursuit for excellence of JDC.

Enterprise Spirit: Sincerity Innovation Excellence.
Enterprise Core Value: Personnel Oriented, Efficiency, Honesty, Teamwork.
Enterprise Vision: Be leading pioneer in China molybdenum industry forever.
Enterprise Tenet: by reasonable development and efficient usage of resources, to create values for shareholders, to provide staff with convenient working and life space, contribute to social wealth.
Enterprise Operation Ideas: Quality First and Win-Win.
Development Ideas: Resources are limited while creativity is unlimited.
Culture Ideas: Culture determines the future.
Collective Concept: All participate with hearts and powers, and success surly come.
Responsibility Ideas: Responsibility is superior to capability.
Execution Ideas: There is no reason to delay, halt and stop in execution.
Threats Concept: No conscience of threat is the biggest threat.
Contribution Concept: Ask not what the company can do for you but what you can do for the company.
Inspiration Concept: Learn from Chinese Idol Lei Feng, and never let every Lei Feng suffer.